Sous Vide Country Style Pork Ribs with Dijon Sauce
Sous Vide Country Style Pork Ribs with Dijon Sauce
Finally, a sous vide pork dish that my wife liked. I've had a couple of duds with pork… which was very surprising to me given how much I love the stuff. But, after some soul-searching and taste testing, I decided that I was just being too light on the salt. I upped the amount of salt I was using, and it worked like a charm
This recipe has a French taste to it. So, we paired it with brussel sprouts with mushrooms and twice baked potatoes. It was a great dish, and it'll be made again
For Christmas, my sister got me the Bernzomatic Trigger Start torch based on the recommendation of my chef-crush, J. Kenji Lopez-Alt. After a little reading up, I decided that the best way to brown the pork ribs would be: get a cast iron skillet (a gift from my wife for Christmas. See the theme?) hot as heck, drop the ribs in, then torch 'em. It worked really well. I like this technique because the pan was a nice safe place to aim the flame.
Prep Time: 30 minutes
Cook Time: 24 hours
Total Time: 24 hours, 30 minutes
Yield: 6 servings
Approximately 1 rib
Finally, a sous vide pork dish that my wife liked. I've had a couple of duds with pork... which was very surprising to me given how much I love the stuff. But, after some soul-searching and taste testing, I decided that I was just being too light on the salt. I upped the amount of salt I was usi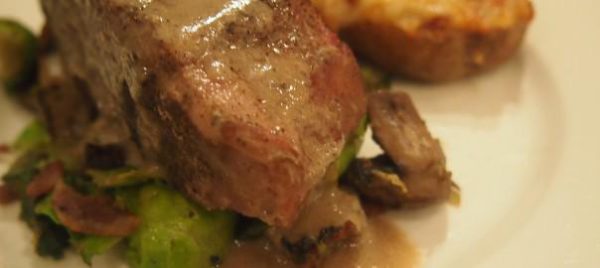 | | |
| --- | --- |
| | |
Pre-heat a waterbath to 140ºF.

Mix first 5 ingredients (through garlic powder) together in a small bowl.

Generously rub pork ribs with the salt mixture. Then vacuum-pack the ribs into a bag for cooking. Submerge the bags in the waterbath, and let cook for 24 hours.

Mix the cornstarch with 2 tablespoons water in a small bowl, and mix until starch is dissolved.

Drain liquid from bag into sauce pan over medium-high heat, add cornstarch mixture, and dijon mustard. Whisk until combined. Reduce the mixture until it's a deliciously thick sauce.

Heat 1 tablespoon of vegetable oil over high heat. Pat the ribs dry with paper towels, and place them in a pan. Brown on all sides.

Serve the ribs topped with a couple tablespoons of sauce.
Note:
Be careful not to light grease/fat pooled in the pan on fire. This shouldn't be a problem, but I didn't want to be responsible for bad things that could happen. BE CAREFUL.